Have Your Home or Place of Work Tested for Radon Gas
Home owners are well aware of the importance of installing Smoke and Carbon Monoxide detectors, but are still missing one other air borne risk you should know about, Radon Gas.
Radon Gas is a Toxic naturally occuring gas that is odourless, colourless, and not visible.  Radon Gas is a Radio Active gas that occurs in buildings measurable at different levels. Radon Gas causes Lung Cancer in humans of all ages. Smaller children pose a greater risk to be affected by the gas. Radon comes from the soils, rock and building materials in and around our homes and places of work. This is caused by the natural break down of particles or uranium. New home and older homes are all at risk of having elevated levels of Radon Gas. This gas can seep into our homes usually at the lower levels through cracks in the floor surface, holes around utility services, openings in walls and sump wells. Block foundation walls are another source for Radon Gas to enter our homes and places of work. Radon decay products can stick to the lung tissues while continuing to irritate these tissues. Lung tissues do not develop a protective layer which our skin has to protect from the alpha particles of radiation. A good portion of cells can be killed off by the radiation, while some damaged cells will recover, other cells will mutate creating Cancer Cells. A body has the natural ability to defend itself , but the ones that are not taken care of naturally are the cause of the health problem.
The higher the Radon Level is in your home, the higher the risk to your health. 
Alder Creek is one of the leaders in Measurement and Mitigation of Radon Gases.
We can offer Certified Tests for homes and commercial properties, but for the economically minded person we can mail out test devices to the DIY market. 
High levels of Radon Gas exist all over Canada. You cannot smell, tast or see this gas. The only way to know if you have elevated levels is to test the air of the home. Radon Gas is easy to test for and in most cases we can mitigate the issue in one day. 
Health Canada estimates Radon Gas kills 3,200 Canadians per year.
According to Health Canada Structure Fires kill approx 110 people per year and Carbon Monoxide poisoning kills approx 50 people per year.
We have included the Radon potential map for Ontario below. We can supply maps for all of Canada showing the potential of Radon gas if requested. There have been tests results well up into the tens of thousands of Bequerels of Radon Gas in areas of all zones. 

The organizations listed show the recommended levels at which point action needs to be taken to mitigate.
                                                   Bequerel per cubic meter             Picocuries per litre
World Health Organization                            100 Bq/m3      or    2.7 pCi/L
Environmental Protection Agency (USA)      150 Bq/m3      or    4.0 pCi/L 
Health Canada                                                 200 Bq/m3      or    5.4 pCi/L
  Commercial Clients
We welcome commercial clients for testing of larger facilities. We offer large scale testing of public, commercial and institutional buildings. We can work with our clients to adhere to the strict Quality Control/Quality Assurance needs set out by Health Canada.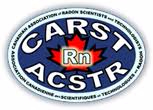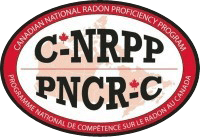 Tarion Warranty for Homes inside the 7 year plan.
If your home tests above the 200 Bq/m3 and the test is completed by a C-NRPP professional this can be considered an unfit home. This would be now considered a Tarion Warranty Claim.  
The Canadian National Radon Proficiency Program (C.NRPP)
Our Mitigation Guarantee:
"Through our process if we cannot reduce the level of Radon in your home or place of work to less than the Canadian action level we will refund all your mitigation costs."
Did you have a high test result for Radon?
If the results of your Radon test come back higher than the action levels Recommended by Health Canada or you just want to lower the levels of Radon exposure to your family or employees the following process will be,
Alder Creek will take a look at your home as to the type of construction, foundation type, basement floor slab and finishes of this area. The presence of a sump pit, water table under the home and size of the foot print. Also we will need to know the level of Radon tested and the duration of the Radon test. 
Once this information is gathered we will set up a time to visit the site to complete a Communication test to determine the permeability of the soils under the floor slab. This will give us the information to determine the soils and other obstructions which can affect the ability to move air under the slab. This will give us the ability to determine the system of choice to for the mitigation of Radon from your home.
Communication Testing of Slab                             $800.00 + HST
A 5" hole will be drilled through the concrete floor slab, (usually in a mechanical room). Soils from under the slab are removed to create a suction pit for the extraction fan. In different areas of the floor slab a 1/4" hole will be drilled through the slab. A vacuum will be attatched to the larger hole (main port of extraction). The pressure differential from the small holes and the main port will let us guage the air volume that can be moved from one area to another under the floor slab. If there is no connectivity from any ports tot he main vacuum port, sometimes another point of extraction may need to be drilled in the floor slab. This can happen when the soils under the slab are extremely solid sub soils or obstacles like a grade beam. At this point we can determine the design for a (SSD) sub slab depressurization system. 
Travel charges may apply in some cases.